I was getting ready to install pins in my most recent rifle and wondered how would this have been done in the 18th century. I normally use a couple twist drills (1/16″ and 5/64″) and my cordless electric drill. So, I asked that question on ALR, and after reading a number of the responses, I came up with the following simple bow drills as a solution. They were turned out of hard maple and the axle at the top and drills are music wire. I used 1/8″ for the top pivot/axle, and I used 1/16″ and 5/64″ music wire for the drill bits. I sharpened them like an 18th century metal cutting bit for a brace.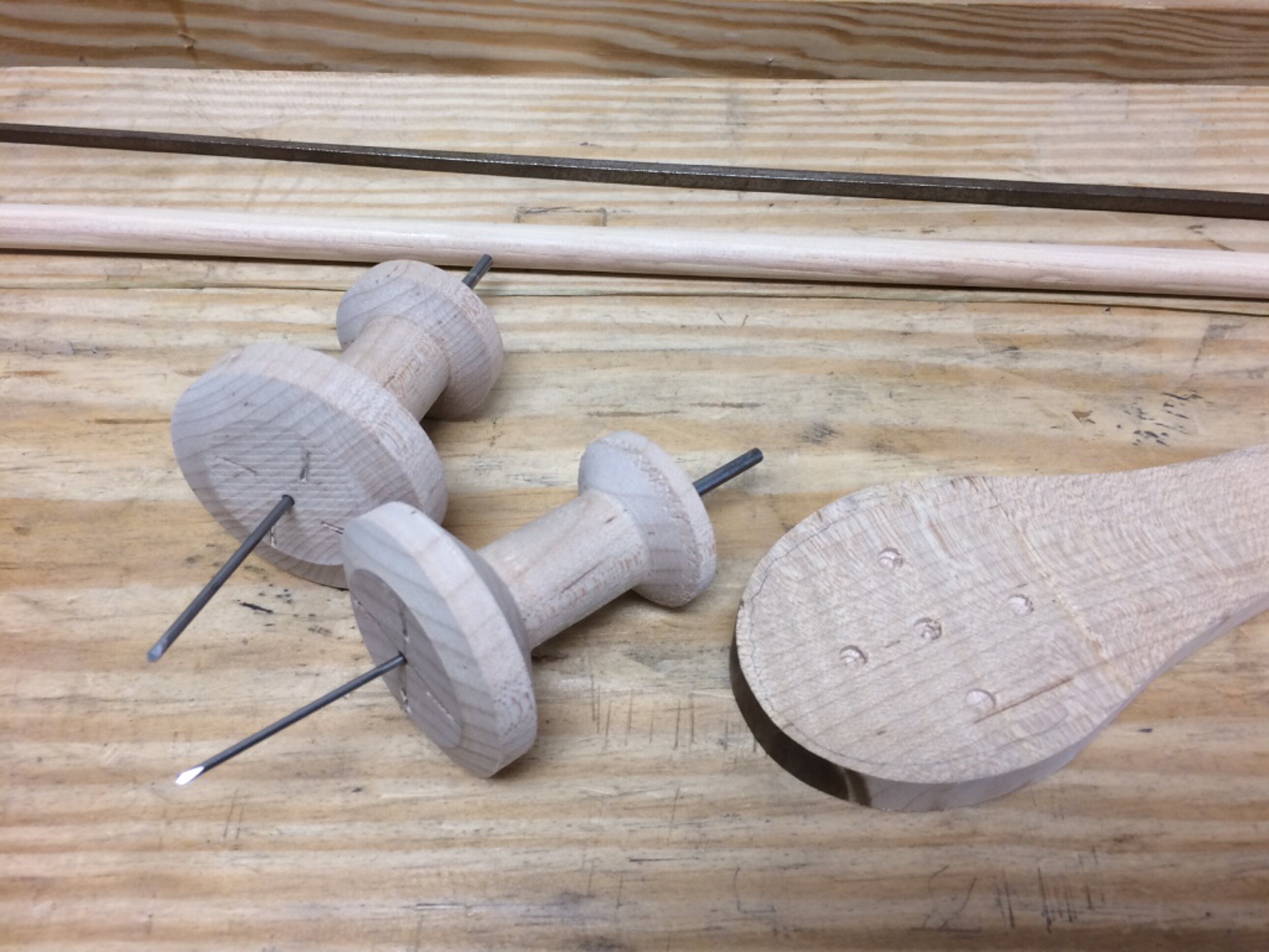 For the time being, I am using a hickory rod for the bow with some artificial sinew for the bow string. I have an old foil blade that I am going to use to make a more period correct bow with a little take up reel at the hilt/handle for the string. I will forge a little loop in the tip of the blade to attache the other end of the string.
The way you use these is to punch the location of the pin hole with an awl. Then insert the drill bit tip into the hole with the bow string already around the drill spool. You use the little paddle shown to hold the other end of the drill. You will notice little holes in the paddle for the top axle of the drill. It is a little awkward to get started, but once you do, you can drill the distance to the barrel tenon or thimble tab in a minute or two. You just mark the tenon or tab and then remove it to drill it with a regular metal bit for a brace.
With the bow drill, you would drill one side of the stock and then drill the other side using the 1/16″ bit. Then with the drilled tenon or tab back in place, drill through with the 5/64″ bit. The second 5/64″ drill should line up all the holes nice and tight. At least that is the plan. I haven't actually installed a thimble with them yet.
I still have to make 1/16″ and 5/64″ metal cutting bits with a lantern stock chuck and tapered square adapter for a brace. I will need the adapter because the little drills will be made of music wire and be for use in a lantern stock chuck. I plan to make another bow drill with a lantern stock chuck for these little drill bits. That will be the subject of another posting.