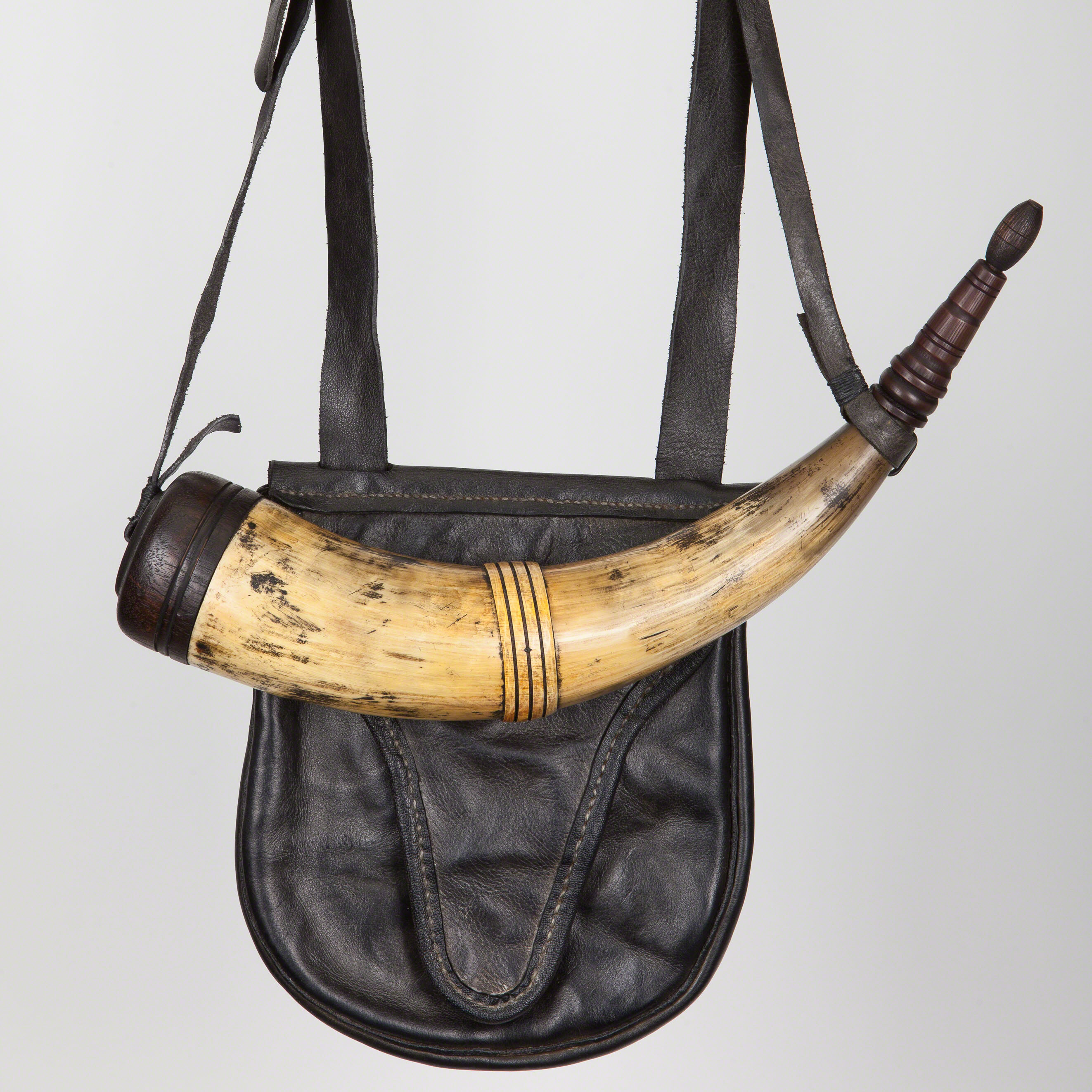 I made this shot pouch and powder horn for a Virginian headed south to the Texas fight for independence. It represents late flint pouch from the central Valley of Virginia, and is based on an example from Rockingham Co, VA as documented by Madison Grant in his book on hunting pouches. The horn is my standard Virginia, single banded, screw-tip powder horn.
This approximately 8″ x 8″ pouch is a three piece design of 3-4 oz vegetable tan cowhide consisting of a back, front, and flap. The back and flap are connected by a separate panel that is perforated at the top for the straps which are sewn inside. The pouch is not lined, as most original pouches were not, but it does include a small hanging pocket suitable for balls or other small items. The bag is gusseted to increase the capacity; and all seams are welted which improves longevity. The flap and inside edge of the front panel are bound in goat or calf skin. All my leather work is hand sewn with a saddle stitch using waxed linen thread. The 6 oz leather strap is 1″ wide and is adjusted with a plain forged iron buckle. There is also a leather keeper to keep the strap end neat. The pouch is stained with a vinegar and iron solution which results in a dark brown to blue/black color through the leather. This is a chemical stain; not a pigment. It will not wash out. The outside and part of the interior of the pouch is rubbed with Mink Oil and then brushed to protect the leather.
During the construction process, the leather and the finished pouch was distressed giving it a well broken in appearance. Almost all my work is slightly aged. Hopefully, those of you who are re-enactors will not be accused of being farb on my account.
Click and drag your mouse cursor horizontally across the image to spin the powder horn below. You can use you mouse wheel (scroll) to zoom in and out. You must zoom all the way out in order to spin the horn.
Shown below is a slightly larger version (approximately 9″x 9″) of the bag above made for a fowler paired with a plain southern powder horn.